Why Exhibit?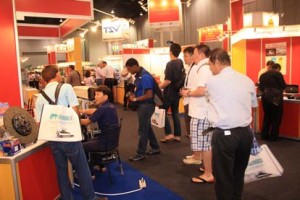 TAPA 2018 will occupy an impressive grand venue of over 30,000 sq.m. and it will be divided into two parts. During the first three days, April 5-7, the event is open exclusively for trade negotiations, while in the last day, April 8, it is open for public retailing.
Reasons to Exhibit at TAPA 2018
International Attendance. Your products will be on show to thousands of prospective buyers from major markets such as India, Malaysia, Japan, Singapore, Vietnam and the Philippines.
Coming Back for More. The fair is recognized as a place to write business. Most of exhibitors were very pleased with TAPA 2018.
All Together. With the added convenience of everything under one roof, it's easy to catch the attention of visitors and deliver your message.
Headquarters of the Industry. TAPA is the auto hub of Asia, it's therefore a great place to make new business contacts or source new agents and distributors.
Media Exposure. It's an excellent launch site for new products, as many international press representatives will be at the fair.
Product Knowledge. You can benefit from countless opportunities and develop strategic advantages from the understanding you gain about the latest trends and products.
Extra Activities. TAPA 2018 is host to a series of colorful activities, including an eco-car exhibition, agricultural vehicle display, car accessory design contest as well as seminars on hot topics of the industry.
Spreading the News. The TAPA 2018 organizing committee has invested heavily in promoting its event around the globe.